No43 [Tokyo] Our top ten tonkatsu treats
The next time you travel to the Japanese capital, think about visiting one of these top tonkatsu restaurants.
Ask any ten people what their favourite sushi, ramen or tempura restaurant is and you will probably get ten different answers. Tonkatsu is no different. To give you an example, for most people the Holy Trinity of Tokyo tonkatsu seem to be Butagumi, Maisen and Tonki. However, none of these are listed in the Michelin Guide, whose webpage features 13 places, including the only tonkatsu eatery with a star, Katsuzen. The added problem with tonkatsu is that it's far from being considered a sophisticated gourmet dish. So why spend thousands of yen for something that may best bedescribed as plebeian comfort food? This philosophy is why many locals have no problem eating at a chain restaurant like Wako (more than 200 outlets in and around Tokyo) or Katsuya. Having said that, there are many ways to make this simple dish, and you'll certainly want to avoid those smelly joints whose oily pork cutlets settle in your stomach like a brick and never seem to go away. In the end, it's up to you to decide how much you want to spend on breaded deep-fried pork. This is our lineup, in alphabetical order.
Agezuki (Kagurazaka)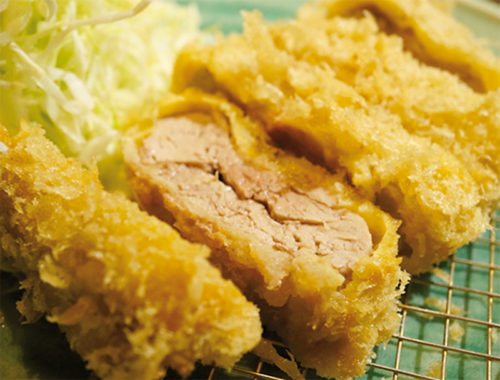 Located in a simply but elegantly designed basement, Agezuki is famous for both its tonkatsu and its well-stocked drinks menu, which features a dozen craft sakes and several types of shochu. The cutlet here is first-rate, coming from a hybrid breed of pig sourced from a small farm in Miyazaki, Kyushu. The pork is fried in a mixture of imported Dutch lard and vegetable oils, resulting in a light-coloured, thin crust. Diners are encouraged to try their first bite of cutlet with a pinch of salt to best savour the rich and pleasantly fatty flavour without sauce. For a chance to try their quite affordable lunches you may want to show up early and queue up, as they often run out of ingredients well before the official closing time.
B1F Yamanouchi Bldg 3-2 Kagurazaka, Shinjuku-ku
Open 11:30-15:00, 18:00-22:30.
Closed Tuesday and 3rd Wednesday of the month.
Aoki (Kamata)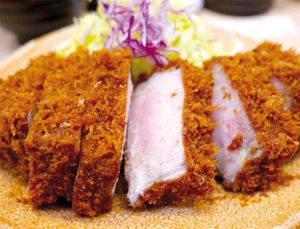 Aoki is without doubt one of the most fashionable places of the moment. This tiny restaurant situated two hundred metres from the eastern exit of the JR Kamata station only seats around a dozen along a counter, behind which the chef and his helpers busily prepare generous servings of tonkatsu. The menu is simple and is on view outside the restaurant if you arrive a few minutes before it opens. A young waiter takes your order and all you have to do is wait patiently for your turn while watching other clients as they leave, visibly satisfied after having enjoyed a tonkatsu cooked minimally so it's still pink and pleasantly juicy. One of Aoki's special features is to offer its clients salt sourced from places like Mongolia, Bolivia or even Peru, an original way of bringing out the true flavour of meat. The quality is so appealing that regulars often bypass the sauce to enjoy the full flavour of their fried pork. The soup (tonjiru) that accompanies it is equally recommended.
5-43-7 Kamata, Ota-ku
Open 11:00-14:00, 17:00-21:00.
Closed Sunday and Monday.
Butagumi (Nishi Azabu)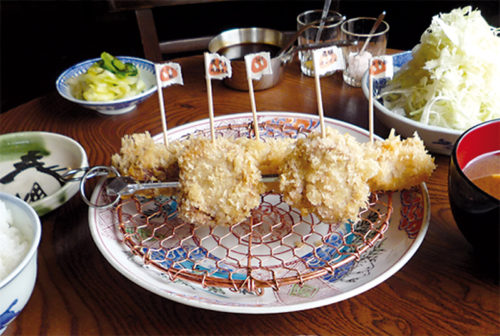 This is arguably one of the only two places (the other one is Katsuzen) where pairing the words "tonkatsu" and "gourmet" is not ridiculous. The dishes are priced accordingly (and fit the gentrified Nishi Azabu neighbourhood) so expect to pay no less than 3,000 yen. This is a good place to impress your date, with separate semi-private booths ideal for couples. While in other places the open kitchen takes pride of place, here you barely notice it. Butagumi has one of the most comprehensive menus in Tokyo with at least a dozen varieties of pork, from Kenton (a special breed of pig from Gifu Prefecture) all the way up to premium Spanish Iberico pork. They even offer a sampler of five tonkatsu morsels called the Butagumi-zen set. The remarkable thing is that the meat here does not taste greasy: All the deep-frying is done in good quality sesame oil and the results are outstanding.
2-24-9 Nishi Azabu, Minato-ku
Open 11.30-15:00, 18:00-23:00.
Closed on Monday
www.butagumi.com/nishiazabu
Katsukura (Sendagaya)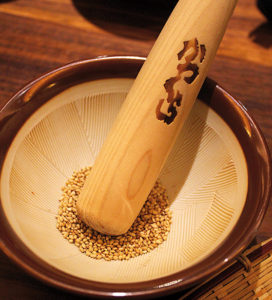 Katsukura is a restaurant chain from Kyoto with ten branches in the Tokyo/Yokohama area. What sets Katsukura apart from most tonkatsu chains is their consistent good quality. Indeed, they offer some of the best value for the price. The standard sirloin cutlet starts from 1,350 yen for 90g, while the fillet cutlet is 1,480 yen for 90g. Another nice touch you'll rarely find in other tonkatsu restaurants is that you can add toasted sesame seeds to your dish by grinding them yourself with a mortar and pestle.
14F Shinjuku Times Square Bldg.
5-24-2 Sendagaya, Shibuya-ku
Open daily 11:00- 23:00
www.fukunaga-tf.com/katsukura
Katsuzen (Ginza)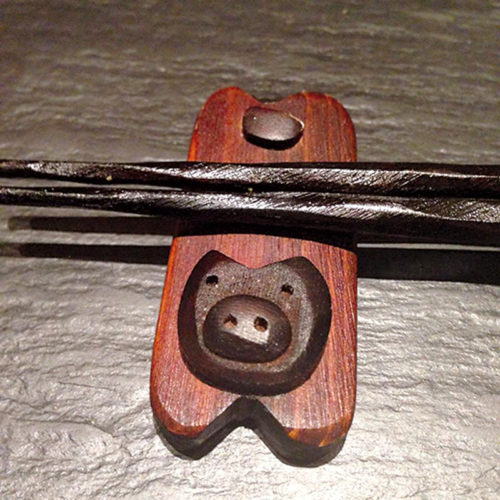 When owner Nagai Etsuo moved his family business from sleazy Ikebukuro to posh Ginza back in 2005, he had already been making some of the best, most delicate tonkatsu in Japan for about 40 years, but the change of address earned him a Michelin star. Today, Katsuzen is still the only starred tonkatsu restaurant featured in the famous guide. Katsuzen's meat comes from Kyushu, the best variety being black Berkshire pork from a free-range farm on Mount Kirishima. Nagai's attention to detail is such that he makes his own breadcrumbs from scratch (ready-made breadcrumbs absorb too much oil according to the chef), and the all-important cabbage is grated finer than usual. The restaurant even produces their own unique miso-garlic version of Worcester sauce. Everything is cooked to order, with each cutlet taking around 15-20 minutes. This is a very intimate place, with just an eight-seater counter and a little private side room. Enjoy the peace and quiet and be prepared to empty your wallet at the end.
4F Kojun Bldg. 6-8-7 Ginza, Chuo-ku
Open daily 11:30-14:00, 17:00-22:00
Kimukatsu (Ebisu)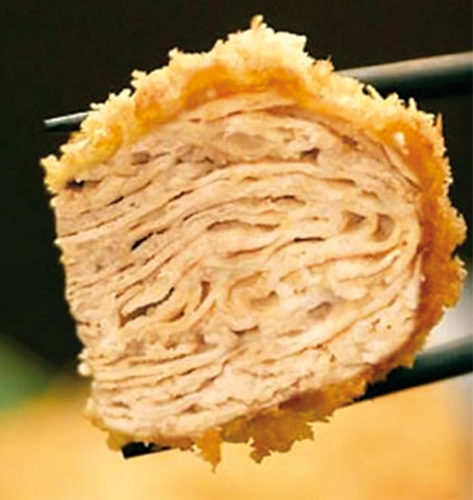 Now for something slightly different; the tonkatsu here is made up of many thin layers of meat, like a pork mille-feuille. Also, if you want, you can get your tonkatsu filled with cheese, black pepper, green onion, garlic, sour plum or yuzu pepper. You can either get a typical set meal or a value combo with the choice of any two or three different flavours. This isn't a fancy place but it's very popular, judging from the long queues of people waiting outside.
4-9-5, Ebisu, Shibuya-ku
Open Monday-Thusday, Sunday 11:00-23:00, Friday and Saturday 11:00-23:30
www.kimukatsu.com
Maisen (Aoyama)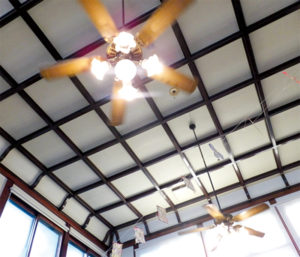 Though not the best tonkatsu restaurant in Tokyo, this is arguably the most famous, especially among foreigners, probably because it's mentioned in many travel guides. This small chain has been in business since 1965 and they have several outlets in Tokyo, but their main shop near Omotesando is the go-to place. It's located in a former public bathhouse (the main dininghall has incredibly high ceilings, especially for Japan), which makes for a very interesting eating experience. Their pork cutlet is very juicy and crispy yet not greasy. There are many options on the menu, including the famous Okita Kurobuta, with prices to suit most wallets, but eating here is generally not cheap.
4-8-5 Jingumae, Shibuya-ku
Open daily 11:00-22:00
Tonkatsu Santa (Shinjuku)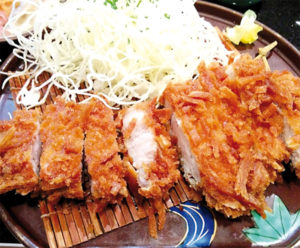 The tonkatsu here is a little different from the standard fare because the breadcrumbs are grated rather than finely minced in a food processor. The pork itself comes from the prefectures of Saitama and Chiba. It's a pleasant and centrally- located place where you can eat decent food at a decent price.
3-33-10 Shinjuku, Shinjuku-ku
Open Tuesday-Friday 11:30-14:00, 17:00-21:30; Saturday, Sunday and public holidays 11:30-21:30. Closed Monday.
www.tonkatsu-santa.com
Tonki (Meguro)
See this article
Yabaton (Tokyo Station)
This is one of Nagoya's most famous restaurants and offers yet another variation on the classic tonkatsu recipe. If you don't happen to know about Nagoya's somewhat "exotic" culinary tradition, this city is known for its miso katsu, cutlets slathered with tasty and rather sweet red miso (soy bean paste). Their best-selling dish is teppan tonkatsu – a big fatty pork cutlet served on a bed of cabbage and covered in their trademark miso sauce. The restaurant is located on the Yaesu side of Tokyo Station, in the "meat zone" section of the new GranRoof complex, in the basement arcade.
B1F GranRoof Bldg. 1-9-1 Marunouchi, Chiyoda-ku
Open daily 10:00-23:00
www.english.yabaton.com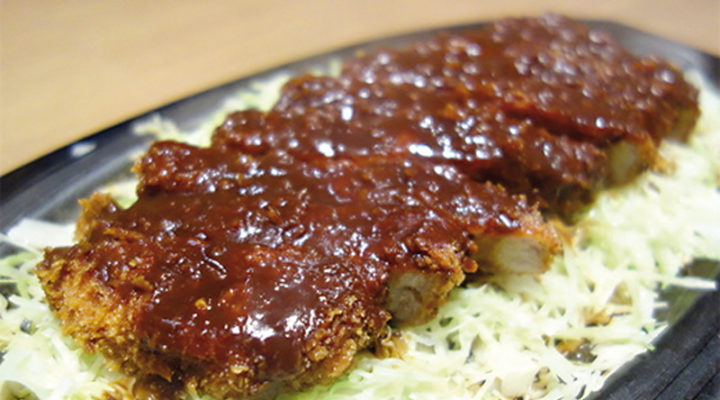 JEAN DEROME & ODAIRA NAMIHEI