No66 [HARUYO'S RECIPE] Kare-pan (Curry bread)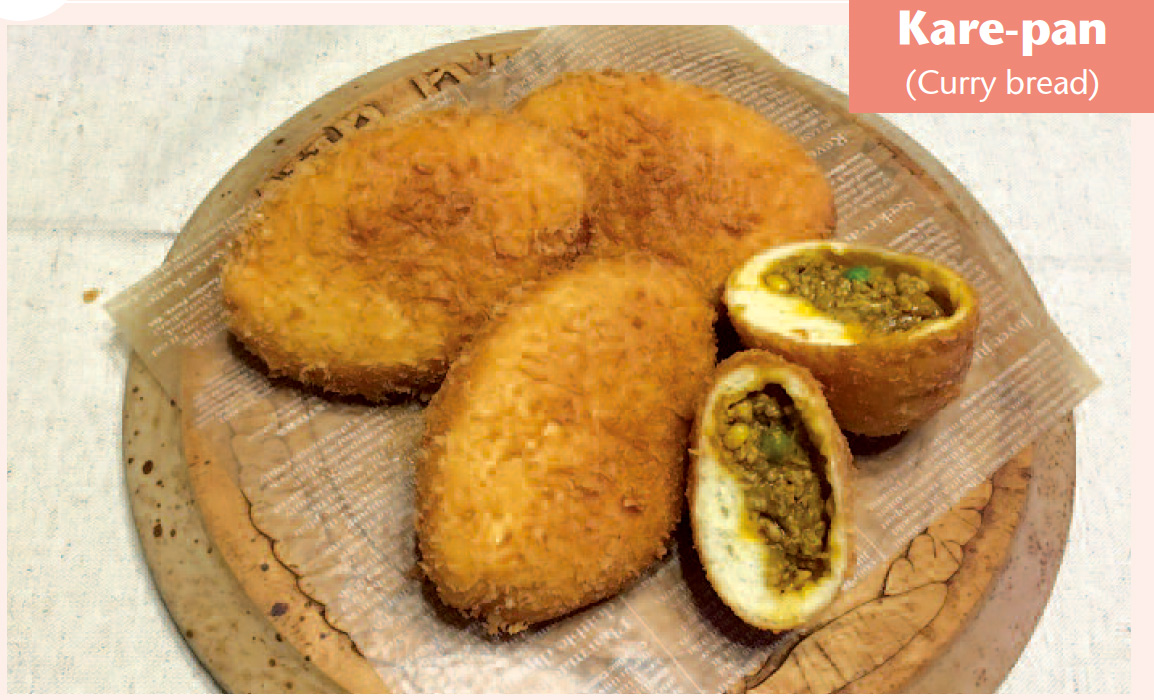 RECIPE
Bread dough:
1 – in a bowl, mix the dried yeast and 1/4 teaspoon sugar. then add 2 tablespoons of warm water (about 30°c). set aside for 15 minutes.
2 – in another bowl, mix the flour, 1.5 tablespoons sugar and the salt.
3 – add 170ml water.
4 – mix together with a spatula, then knead for 5 to 7 minutes.
5 – leave to rest for 1 hour at 30°c (covered with a damp cloth).
Filling:
6 – in a frying pan, heat the oil then add the ginger and chopped garlic.
7 – stir in the chopped onion and fry.
8 – add the minced meat and fry.
9 – stir in the flour and the curry powder.
10 – stir in the ketchup, salt, pepper and water.
11 – add the vegetables and allow to simmer until all the water has evaporated.
12 – spoon out onto a plate and allow to cool.
Buns:
13 – Place dough onto a floured table top. Flatten, then divide into 8.
14 – Roll into balls. allow to rest for 5 to 10 minutes.
15 – With a rolling pin, flatten the dough balls into 8 x 12cm oval shapes.
16 – Place 1/8 filling on each oval and press edges together firmly.
17 – Form into the shape of rugby balls and flatten.
18 – Brush the surface with water, then sprinkle with the breadcrumbs. set aside for 10 minutes.
19 – in a large frying pan, heat the oil to 170°c. Fry in the hot oil for about
10 minutes. turn from time to time.
20 – Place on a mesh cooling rack and allow to cool.
21 – serve.
INGREDIENTS (FOR 4)
For the bread dough:
1.5 teaspoons dry yeast
1/4 teaspoon sugar
2 tablespoons warm
water
300g bread flour
1.5 tablespoons sugar
1 teaspoon salt
170ml warm water
For the filling:
1 piece fresh ginger
1 clove garlic
1 onion
300g minced meat
1 tablespoon bread
flour
3 tablespoons curry
powder
5 tablespoons ketchup
1 teaspoon salt
Pepper
100ml water
60g mixed vegetables
dried breadcrumbs
oil