No19 [Drinking] For Sake's Sake – Part 2/3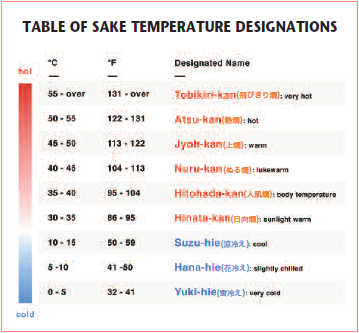 For Sake's Sake – Part 2/3
Kikuya Natsuki, director of the Museum of Sake, continues our journey into the fascinating world of sake.
In this, the second part of Zoom Japan's sake column, Natsuki takes us deeper into the world of sake –to learn about its nuances and look at how to enjoy sake in your own way.
Where to drink sake? When I tell people about sake in London, I am often asked where you can go to drink it, so in this issue I would like to introduce you to the wonderful and unique world of the izakaya, as well as the Japanese culture of drinking sake at home.
1. Drinking sake at an izakaya (居酒屋) The izakaya is a popular kind of traditional drinking establishment and could be described in English as a "Japanese gastro pub". The main focus is on drinking but there is a greater range of light food and snack dishes (known as "sakana" 肴) for patrons to share than you would find at most British pubs. The word "izakaya" is derived from "i" (居), meaning "to stay", and "sakaya" (酒屋), which is a sake shop and it is said that this kind of establishment started in the Edo period when sake wholesalers started to offer drinking on their premises and gradually came to offer simple food to complement the beverages as well. The local izakaya is seen as a daily meeting place where Japanese people gather to socialize. They are done up in many different styles, from those with traditional Japanese décor to those with a more western style and even some where patrons stand while drinking. There are also a great many izakaya which specialise entirely in sake. London offers a number of eateries where you can enjoy sake such as Kirazu, Chisou, Roka and Kikuchi, and you should make sure to ask for the staff's recommendations before ordering.
2. Drinking sake at home Most British people may not be used to drinking sake at home but it is undeniable that this is the easiest and most economical way to enjoy the delights of this fine beverage! There are no hard and fast rules for drinking sake at home so I encourage people to personalise the drinking experience by trying a variety of sake they like the look of in the manner of their choosing. Sake can be enjoyed at a wide range of temperatures, so it can be very enjoyable to exploit this by trying the same brand of sake at different temperatures, going up in increments of 5 degrees at a time (refer to the chart above) and savouring the changing acidity, sweetness, savoury quality and textures. For best results when heating sake, first transfer into a carafe and then warm it in a hot water bath. Although obviously a great complement to Japanese cuisine, sake is versatile and you can make some wonderful new discoveries by exploring different combinations with foods such as smoked salmon, Italian cuisine, cheeses or fruits.
Kikuya Natsuki